Scholarship in writing center studies seems to revolve around the four big questions: what, where, why, and how. In this paper, I will tackle the two seemingly simple questions of what and where to show how these are complex and interconnected major questions with the field of writing center studies.
The question what? encompasses questions like what is a writing center? and what work is done in the writing center? The following parody of a writing center promotional commercial demonstrates the confusion over what what a writing center is and does, thereby making these important questions within the field:
The confusion displayed in this parody as to what a writing center is for has made this a major question to answer in the field. In my look at the history of writing centers and writing center studies, I discussed North's (1984) seminal piece in which he declared the writing center a place separate from the classroom and concerned with producing better writers, not just better assignments. He also tackled the question of what work is done in writing centers by clearly indicating what writing centers AREN'T, namely an editing service or place of remediation only for errors or surface concerns in writing. Yet, what North does not dig into within this article is what the kind of help for writing he is advocating actually looks like. He mentions tutors several times throughout, but this concept isn't really reflected on in too much depth. However, many scholars began to think about what this tutoring should look like or consist of. In the same year that North's article appeared, Bruffee (1984) advocated a peer tutoring model for writing centers, establishing what would become the dominant model for many writing centers.
Bruffee argued for peer tutoring on three major grounds. The first was that students struggling within the classroom model and the traditional power structure that it entails may be more open to working with their peers. The second was that the peer model promoted collaborative learning, thereby helping not only the tutee, but the tutor. Bruffee claims, "It did not seem to change what people learned but, rather, the social context in which they learned it. Peer tutoring made learning a two-way street, since students' work tended to improve when they got help from peer tutors and tutors learned from the students they helped from the activity of tutoring itself" (p. 4). His third reason in support of peer tutoring is that this tutoring model promoted dialogue and conversations within a discourse community, notions prized within the humanities. Bruffee also contends with objections to this model with fears that it promotes the "blind leading the blind" by stressing the mediation of faculty through the creation of assignments, as well as the  importance of sufficient training for tutors.
The use of peer tutoring has also been used to support the notion of writing center work as iconoclastic, work that goes beyond helping individual students be stronger writers, but that empowers all students and works against institutional practices of exclusion. Lunsford and Ede (2011) celebrate that "centers serve as sites of collaboration that challenge hierarchies and traditional ways of producing knowledge, bringing student writers and peer tutors into conversations that can, and often do, change both them and their writing. (We are not so naïve as to believe that all centers enact this kind of collaboration, but this statement does represent an ideal that many writing centers strive to achieve)" (p. 12). Writing center scholarship then not only asks the question what work is done in the writing center? but also what work is possible in the writing center?
Though peer tutoring has generally become the dominant model answering the question of what work is done in the writing center, this answer is not uncontested and the question of what work is done in the writing center is still grappled with by practitioners and scholars within the field. For instance, Steven Strang (2006) questions the universal appropriateness of peer tutoring at all institutions by examining his own center at MIT. He reminds readers that "what type of staff you choose for your center grows from your local circumstances–for example, the type of school, you vision of the center, the local restrictions (e.g., the size of your budget, the local talent pool, the needs of other departments), and the center's relation to the institution's mission" (p. 291). He offers five reasons that hiring professional tutors works better for M.I.T. including a lack of undergraduate English majors interested in teaching and undergraduate tutors' tendency to become consumed with being successful in their own classes, so that becomes a priority before tutoring. He also suggests that since the clientele that use the writing center include graduate students and faculty, undergraduate tutors often can't support their needs. Finally, he praises the teaching and publishing experience professional tutors bring to their position and explains that people with these credentials are abundant in the Cambridge and Boston area. Strang also argues that using professional tutors supports his center's claim that they "are a teaching institution, and having expert staff has made that claim much more believable much more quickly for faculty members in all departments" (p. 293). Strang is essentially arguing that a professional tutoring model fits best within his institution. The question of what work is done in the writing center? is a major question in writing center studies, then,  because of the tension between scholars' desire to come to definitive answer to define the field and institutional specificity and local concerns that shape individual writing centers and the work they do.
Scholars like McKinney (2013) have even come to question the exclusivity of tutoring in discussions of the work of writing centers. McKinney talks about an experience presenting on her center's use of instant messaging to answer quick questions about writing in her center. She claims that in a conversation about her presentation topic, many seemed uncomfortable with this work, advocating the primacy of one-on-one tutoring in their centers. McKinney notes that this focus on tutoring is supported throughout writing center scholarship, but may ignore the everyday practice of individual centers who do far more than just offer tutoring. This concept that writing centers do more than tutor is not new, and is clearly articulated in North's "Idea":
some centers have established resource libraries for writing teachers. They sponsor readings or reading series by poets and fiction writers, and annual festivals to celebrate writing of all kinds. They serve as clearinghouses for information on where to publish, on writing programs, competitions, scholarships, and so on; and they sponsor such competitions themselves, even putting out their own publications. They design and conduct workshops for groups with special needs-essay exam takers, for example, or job application writers. They are involved with, or have even taken over entirely, the task of training new teaching assistants. They have played central roles in the creation of writing-across-the-curriculum programs. And centers have extended themselves beyond their own institutions, sending tutors to other schools (often high schools), or helping other institutions set up their own facilities (p. 445)
McKinney, suggests though that the narrative of writing center studies has focused so exclusively on tutoring, however, that scholarship may not account for other answers to the questions of what work is done in the writing center. Thus, scholars continue to grapple with how to talk about what a writing center is and what is done there.
Almost as important as the question what? within writing center scholarship is the question where?, or discussions of how location affects the work of writing centers. Location can refer to campus location, departmental housing or affiliation, or the real vs. virtual world. Lunsford and Ede claim, "where we [writing centers] are housed carries both material and symbolic importance"(p. 13)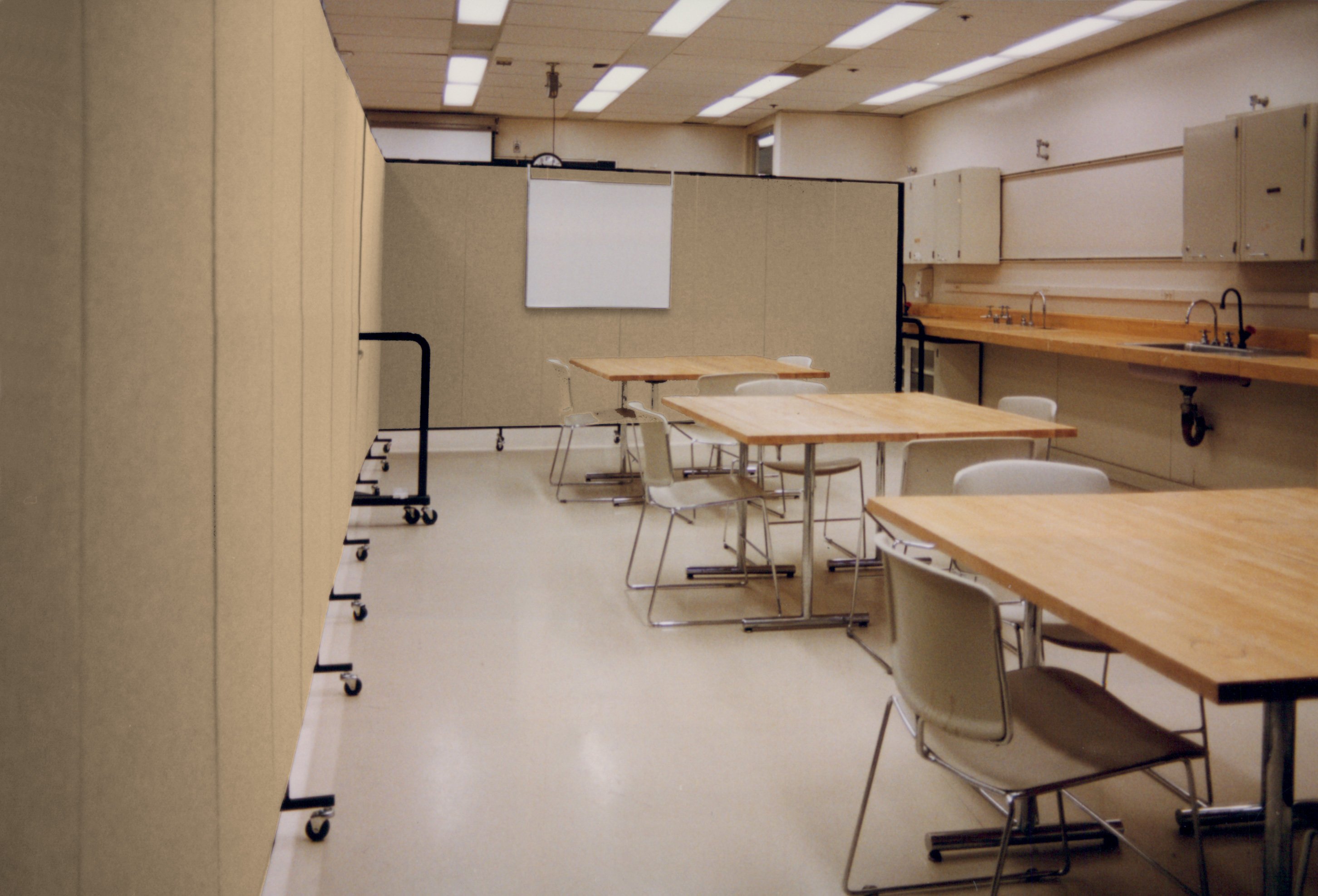 Returning for a moment to North, it is important to note that his description of the marginalization of writing centers based on their physical location has become a common trope in writing center discourse: "the castoff, windowless classroom (or in some cases literally, closet), the battered desks, the old textbooks, a phone (maybe), no budget" (p. 437). Lunsford & Ede echo this characterization, stating,  "it is also often the case that centers are on the margins, or in the eddies of the stream—in temporary housing, in basements, even in large closets in out of the way buildings. It's amazing what our colleagues have been able to do from such marginalized locations: as a result, we often think of writing center advocates as the ultimate tricksters or bricoleurs, able to effect change on campus against formidable odds" (p. 14). Interestingly, Lunsford and Ede  link writing centers' often marginalized location to their ability to be change agents on a campus. Thus, we can see how writing center scholarship often strives to find links between the questions what and where.
Recently locational questions have focused on departmental affiliations, or who directors and coordinators report to. Writing Centers can be part of English departments, Communications departments, the library, independent under academic affairs, independent under student affairs, or merged with other resource centers, etc.. Often these affiliations aren't static even within a single center. Lunsford and Ede discuss this movement of centers:
We are thinking, for instance, of a freestanding writing center that was located within the Faculty of Humanities and Sciences—until it was merged with three other "support" units—one for engineers, one for athletes, and one for students with disabilities. Now think for a moment of the competing needs here, not to mention the potentially competing philosophies. In this scene, the writing center director may need not only to be able to negotiate rough currents but to practically walk on water: it could take years of patient and very wise work to unpack conflicting assumptions and to find compromises that will allow such a merged unit to work effectively for the good of all students. (p. 14)
Lunsford and Ede's concern about merged centers echoes a recent thread on WCenter listserv, concerned about what David Ball termed in his response the "food court model of student services" being advocated by many institutions. These one-stop-shops include all support services for easy access for students; however, many writing center professionals worry that these mergers prevent writing center work as it has been conceived and defined by years of scholarship. Will writing be privileged over the assignment as advocated by North? Will collaborative conversation as advocated by Bruffee be the primary method of these centers? Will this merged model allow for the ability to challenge and change that Lunsford and Ede praise as an ideal goal of writing centers? Again, questions of location are intimately connected to questions of practice.
In my historical overview of writing center studies I had contended the challenge of sketching a history because writing centers can be conceived as both a method and a place. It is because of this dual condition and because writing center studies is a relatively young field that questions of what and where become major questions for the field to contend with.
References
Ball, D.E. (2014, Sept. 6). Re: Forced Resignation [Electronic mailing list message]. Retrieved from http://lyris.ttu.edu/read/messages?id=24523337#24523337
Bruffee, K. (1984). Peer Tutoring and "the conversation of mankind."  In G. A Olsen (Ed.), Writing centers: Theory and administration (pp.3-15). Urbana, IL: National Council of Teachers of English
Lunsford, A. A. & Ede, L. (2011). Reflections on currents in writing center work. The Writing Center Journal, 31(1), 11-24.
McKinney, J. G. (2013) Peripheral visions for writing centers. Logan, UT: Utah State University Press.  
Strang, S. (2006). Staffing a writing center with professional tutors. In C. Murphy & B.L. Stay (Eds.), The writing center director's resource book. (pp. 291-299). Mahwah, NJ: Lawrence Erlbaum Associates.